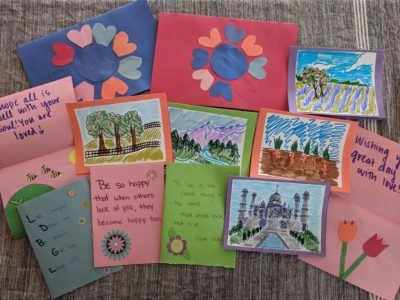 By Joshua Phillips
Staying connected and being an active member of any community is really important. That's why we wanted to host a space this summer for people to feel a sense of togetherness.
The main goal for our 'Cards for Humanity' Choose an SSP Adventure (CASA) session was to encourage participants to reach out to different members of their communities, whether that be on a small personal scale, or for larger contributors, like our first responders. A lot of our SSP participants even found another SSP buddy to be pen pals with.
Letter writing has always been something special to me. Being raised in the digital age, letters almost seemed like a relic of my grandparents' generation. It was something that older members of my community seemed to do, but I was always fascinated by how a note could travel the globe to reach another person.
"Having a tangible note that I could hold onto was very exciting for someone without a phone."
I have family in the Midwest. Growing up, it was so special to wait a week or two to continue a conversation with my cousins about what life was like in an area so different from my own. Having a tangible note that I could hold onto was very exciting for someone without a phone.
Writing a letter at home is really simple. A piece of paper, an envelope, a stamp, and an address is all you need to send a piece of yourself to someone else. Just tell them how your day was going, or maybe a funny event that happened to you. On a broader level, you can let your local fire department or community organization know how appreciative you are of the job that they do.
The letter can be as simple or complex as you want. I personally like to get stationery supplies and wax seal mine with plants from my garden for a personal touch. Once your letter is sealed up, drop it in your mailbox to be sent off. Hopefully, in a week or two, you'll get a response and the cycle can start all over again. How exciting!
Editor's Note: Did you know SSP will return to in-person service in summer 2022? Whether you participate yourself or know someone who volunteers, you can carry this practice of letter-writing into next summer! As the summer approaches, we will post mailing addresses on our partner community pages – stay tuned!