COVID-19 Safety at SSP
Safety of every type – physical, spiritual, emotional – is our top priority. This is one reason we require all volunteers and SSP staff participating in our summer program to be fully vaccinated for COVID-19 (including the new bivalent booster).
SSP's Medical Advisory Council's Guidelines
As SSP staff are not medical experts, we have assembled a Medical Advisory Council of medical professionals familiar with SSP's programs. Please see SSP's Medical Advisory Council's Guidelines for COVID-19 Safety, last affirmed January 19, 2023 (below).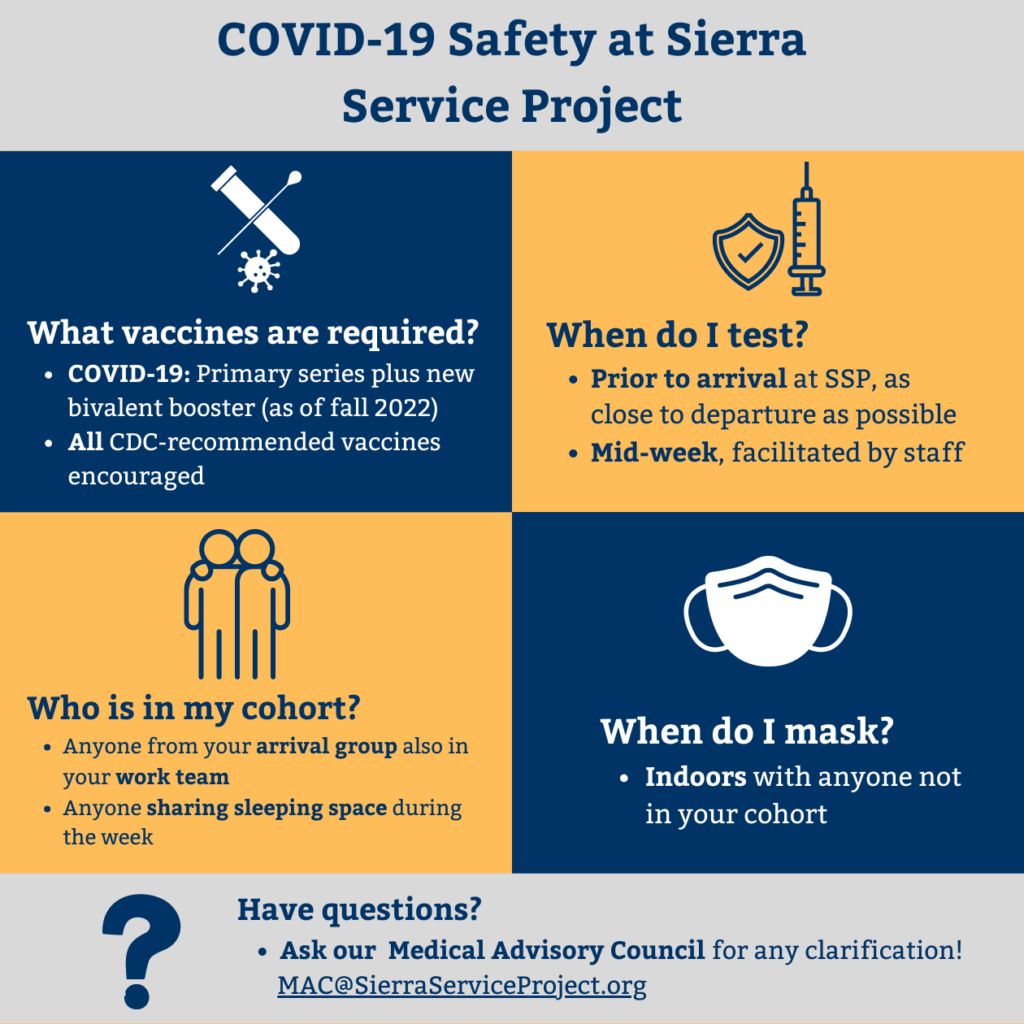 Requirement Details
Before the SSP program, every volunteer must:
At least 3 months prior to participating: Complete primary Covid vaccination series

2 doses of Pfizer or Moderna OR 1 dose of Johnson & Johnson

At least 2 weeks prior to participating (ages 12 and up): 

Obtain an updated (bivalent) booster

Additional boosters are an added bonus!

Provide proof of vaccination to SSP staff via participant forms
Reduce exposure to any potential positive cases as much as possible, especially within the 10 days leading up to the program. Any known exposure to a positive case within 10 days means the volunteer will need to reschedule for a later date. 

Upon arrival: Provide proof of a negative Covid-19 test from as close to arrival as possible. Either rapid antigen at-home (preferred) or PCR lab tests are acceptable.
During the program:
Plan to remain in cohorts for high risk exposure activities (sleeping, traveling in vehicles). 
Mask indoors when not with cohort (including interactions with any community partners, other volunteer cohorts, and SSP staff).

Masks will not be required outdoors between volunteer cohorts, but are still encouraged 

Test mid-week: 48 hours after arrival everyone will test again. Cohorts will remain intact throughout the week, even after mid-week testing.

Monitor for any symptoms and test accordingly
After the program:
Notify SSP staff of any positive cases in the volunteer group within 48 hours after leaving the program
Any updates to safety requirements will be posted on this page.
To ask a question about SSP's COVID-19 safety plans, you can email the Medical Advisory Council at MAC@SierraServiceProject.org. 
Will SSP make any exceptions to its COVID-19 vaccine policy?
As SSP staff are not medical experts, we defer to the Medical Advisory Council. The Council has determined that due to the voluntary nature of the program and our work in medically underserved communities, it is unlikely any exceptions would be made. Contact the Council with any questions at MAC@sierraserviceproject.org.
COVID-19 Related Fee Policies
See SSP's Summer 2023 Information Packet for details on COVID-19 Related Fee Policies. 
Summer 2022 Message from the Medical Advisory Council: