Safety of every type – physical, spiritual, emotional – is our top priority. This is one reason we require all volunteers and SSP staff participating in our summer program to be fully vaccinated for COVID-19 (an updated bivalent vaccine).
SSP's Medical Advisory Council's Guidelines
As SSP staff are not medical experts, we have assembled a Medical Advisory Council of medical professionals familiar with SSP's programs.
Preparing for your SSP experience: Please see SSP's Medical Advisory Council's 2023 COVID-19 Safety Packet for details on how to document test results and more, published May 18, 2023.
Summer 2023 Health & Safety Updates
After comprehensive deliberation with our Medical Advisory Council, on April 5, 2023 we shared some updates to SSP's COVID-19 safety policies for our overnight programs. We appreciate all the survey input shared by group liaisons in March 2023 that helped inform these decisions. Feel free to contact MAC@SierraServiceProject.org with any questions.
Policies that are not changing at this time are:
Full vaccination, including a bivalent vaccine, is still required.
Pre-trip and mid-week testing are still required.
Changes include:
Cohorts are optional. This means volunteer groups can make their own decision about mixing into work teams with other groups, or remaining in a cohort for sleeping, eating, etc. (higher risk exposure settings).
Indoor masking is recommended, but not required.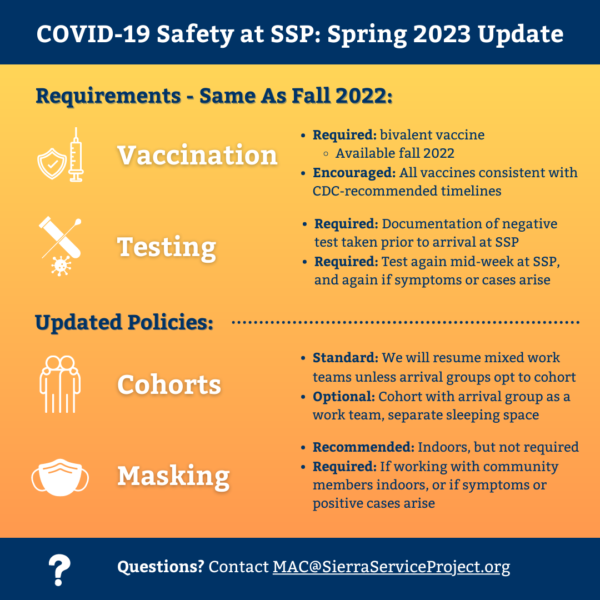 Vaccination Requirement Details
All SSP staff and volunteers must be fully vaccinated against COVID-19 to participate in our overnight summer program, which includes an updated bivalent vaccine (first available September 2022). Here is info from the CDC:

"The updated boosters are called 'updated' because they protect against both the original virus that causes COVID-19 and the Omicron variant BA.4 and BA.5. Two COVID-19 vaccine manufacturers, Pfizer and Moderna, have developed updated COVID-19 boosters. […] If you have received your updated booster dose, you are currently up to date."
As of April 18, 2023, everyone 6 years and older should get 1 updated (bivalent) Pfizer-BioNTech or Moderna COVID-19 vaccine, regardless of whether they've received any original COVID-19 vaccines.

For people who are unable or choose not to get a recommended mRNA vaccine, you are up to date when you get the Novavax COVID-19 vaccine doses approved for your age group.

It is the expectation that all participants will have had a bivalent vaccine prior to arrival at SSP.

Participants who still need an updated bivalent COVID vaccine to be considered fully vaccinated must complete this at least one week in advance of their session (two weeks or more ideal).
Timeline
Before the SSP program, every volunteer must:
At least 2 weeks prior to participating: 

Obtain an updated (bivalent) vaccine
Provide proof of vaccination to SSP staff via volunteer forms
Reduce exposure to any potential positive cases as much as possible, especially within the 10 days leading up to the program. Any known exposure to a positive case within 10 days means the volunteer will need to reschedule for a later date. 

Upon arrival: Provide proof of a negative Covid-19 test from as close to arrival as possible. A rapid antigen at-home test is preferred.
During the program:
The standard is that groups will mix into various work teams for the weeks with other groups.

Groups may opt to  cohort with their arrival group for high risk exposure activities (sleeping, eating, traveling in vehicles).

Masking indoors is recommended, but not required.

Masking indoors will be required when interacting with community partners as a sign of respect.
In the Navajo Nation the safety guidelines may be more strict than SSP's, stay tuned for additional information about when to mask at site.

Test mid-week: 48 hours after arrival everyone will test again. 

Monitor for any symptoms and test accordingly
After the program:
Notify SSP staff of any positive cases in the volunteer group within 48 hours after leaving the program
To ask a question about SSP's COVID-19 safety plans, you can email the Medical Advisory Council at MAC@SierraServiceProject.org. 
Will SSP make any exceptions to its COVID-19 vaccine policy?
As SSP staff are not medical experts, we defer to the Medical Advisory Council. The Council has determined that due to the voluntary nature of the program and our work in medically underserved communities, we are unable to consider any exceptions. Contact the Council with any questions at MAC@sierraserviceproject.org.
2023 COVID-19 Safety Packet
See SSP's 2023 COVID-19 Safety Packet for details on prevention before arrival (vaccination, testing, & masking), prevention on site (outdoors, cohorting, & hygiene), and response plan (response to positive cases).