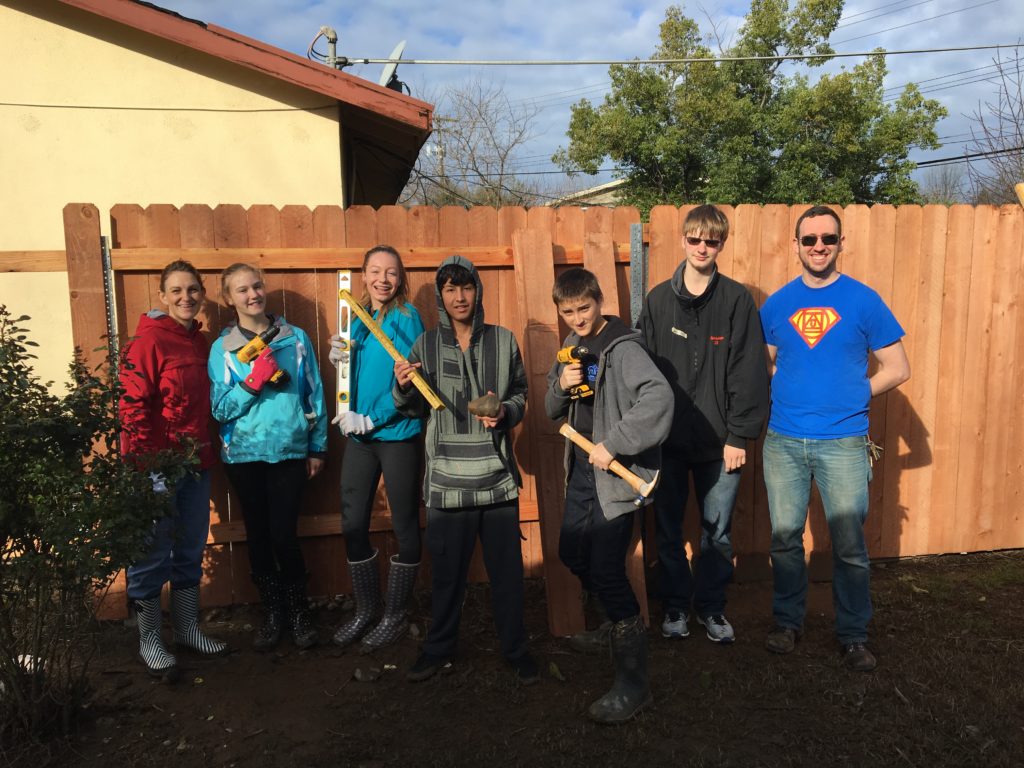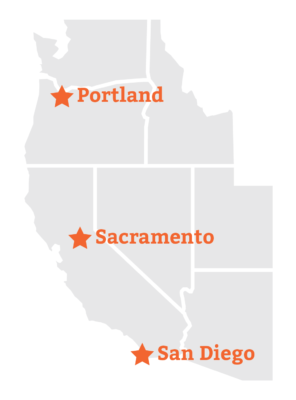 This is Sierra Service Project's eighth year offering Weekends of Service as a part of our year-round programs! We host these sessions throughout the year to encourage youth to be involved in their own communities. From learning about homelessness in Portland to the value of neighborhood beautification in Sacramento, each session has had its own flavor.
Where do Weekends of Service take place?
Sacramento
SSP works in two different communities within the Sacramento region: North Sacramento, which is within the City of Sacramento, and Rancho Cordova, a small city that borders Sacramento.
We work with a variety of local partners. Our work is done with local low-income homeowners and consists of yard cleanup, basic home repairs, handicap ramps, and painting. We shift to indoor work with nonprofits if the case of rain.
We stay at St. Mark's United Methodist Church in Sacramento and shower a short drive away.
Programs incorporate educational activities focused on Sacramento as the capitol, and learning about the work of other nonprofits. We can customize these visits based on your group's interests.
Weekends of Service in Sacramento may include home repair projects in either Rancho Cordova, North Sacramento, or both.
San Diego
Weekends in San Diego's South Bay offer activities with a variety of nonprofit organizations for our service work, and participate in Border Church on Sunday in Friendship Park.
Portland
Weekends in Portland will be in partnership with Catalyst Partnerships NW.
When can we serve?
Most sessions are scheduled by request. Dates currently scheduled for 2020 are:
Sacramento:
January 17-19 MLK Jr. Weekend

This session is for young adults and staff alumni over the age of 18, graduated from high school.

All others by request
San Diego:
Portland:
Contact Megan Walsh if you would like to schedule a weekend for your group.
How many people will be at a Weekend of Service?
We hope to enroll between 25 and 45 volunteers total in each session. No group is too small – one youth and one adult make a group!
What age groups are welcome?
Standard weekends are for both middle school and high school groups. Youth grades 6th through 12th are welcome to participate.
We are happy to host intergenerational weekends, open to anyone 6th grade and older, by request. Groups wishing to promote family-based service, or churches without active youth groups, might choose this option.
What is the cost and what is included?
The cost for Weekends of Service varies by the number of volunteers and location. Contact us with questions about this fee structure.
The fee includes all meals, lodging for two nights, supplies, and a t-shirt. We are able to run weekends with fewer than 25 participants, but this will increase the price per person.
Current Availability
When are registrations due?
Registrations and scholarship applications are due four weeks prior to a Weekend of Service session.
How do I register a group?
The registration process takes place on our MySSP portal, which is our online registration system. MySSP allows you to submit your registration, make payments, and later in the process, update your group's information regarding roster information, t-shirt sizes, and dietary needs.