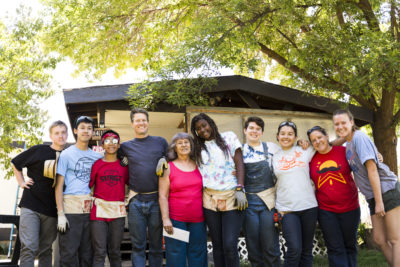 We have been serving with the Chiloquin community since 2013. Based on the 2010 census, 734 people live in Chiloquin. Over 33% of the families in Chiloquin live below the poverty line. Read about the change in Chiloquin since 2013 from the perspective of a community liaison.
Members from the Klamath Tribes primarily live in the small town of Chiloquin, 30 miles north of the city of Klamath Falls. The Klamath Tribes include Klamath, Modoc, and Yahooskin. Our services are open to the entire community.
2024 Dates
Week 1: No volunteers (prep week for staff)
Week 2: June 30 – July 5 (Sunday – Friday)
Week 3: July 7 – 13
Week 4: July 14 – 20
Week 5: July 21 – 26 (Sunday – Friday)
Week 6: July 28 – August 3
2024 Summer Participant Fees
$635 per person

Plus flat sign-up fee of $75 for 1-5 people, or $200 for 6+ people
Service Work in Chiloquin
For the most part, we repair homes in the communities we serve. The type of work includes roofing, building ramps and porches, painting and other general home repairs. No construction experience is needed, and you'll be amazed at all of the work that your youth teams complete!
Occasionally, our teams work on churches, community buildings, and schools in the communities that host us. In addition, we will sometimes participate in other types of community service activities like community gardens when there is a need and the work is appropriate for youth work teams.
Most projects take longer to complete than your week at SSP so you may see the beginning, middle or end of a project.
In 2019, volunteers completed 13 projects for homeowners and community organizations:
1 deck
1 painting project
1 shed
2 fences
2 ramps
6 stair projects
Chiloquin Location
Directions to Chiloquin
To get to Chiloquin, consult Google maps or a similar mapping service to find the best route for your group.
(Facility TBD)
Chiloquin, OR 97624
From Highway 97:
From the South, take OR-422 W/Chiloquin Boulevard. Turn right on W Chocktoot St.
From the North, take exit 247 toward Chiloquin. Turn left on OR-422 W/Chiloquin Boulevard. Continue onto W Chocktoot St.
Chiloquin Climate
The average high during the summer is 85°F and low is 40°F. The elevation in Chiloquin is 4,200 feet.
During Adventure Wednesday, everyone serves together at Collier Memorial State Park. Teams clear brush to prevent forest fires which is a major concern to the area. In the afternoon, we relax by the river and enjoy a BBQ dinner.
Thursday evening program is off site. Weather permitting, everyone drives to an overlook above Upper Klamath Lake with a great view of the sunset behind Mt. McLoughlin. This is a special time of personal reflection.
By Zasu Scott Youth Volunteer from Loomis First United Methodist Church I reached a turning point the summer before my sophomore year of high school in 2015. It was my fourth time spending a week repairing homes with Sierra Service Project, and it was undeniable that each experience had been transformational for me. My experience […] Continue Reading
Every summer, Chiloquin, Oregon witnesses miracles. Houses have paint for the first time in years. Fences, down and leaning for decades, are standing straight and tall. Elderly and disabled people can get wheelchairs out of their houses because SSP has constructed a ramp. The little miracles have piled up for five years now, and with those miracles, hope has come to the community. Continue Reading